our founding and history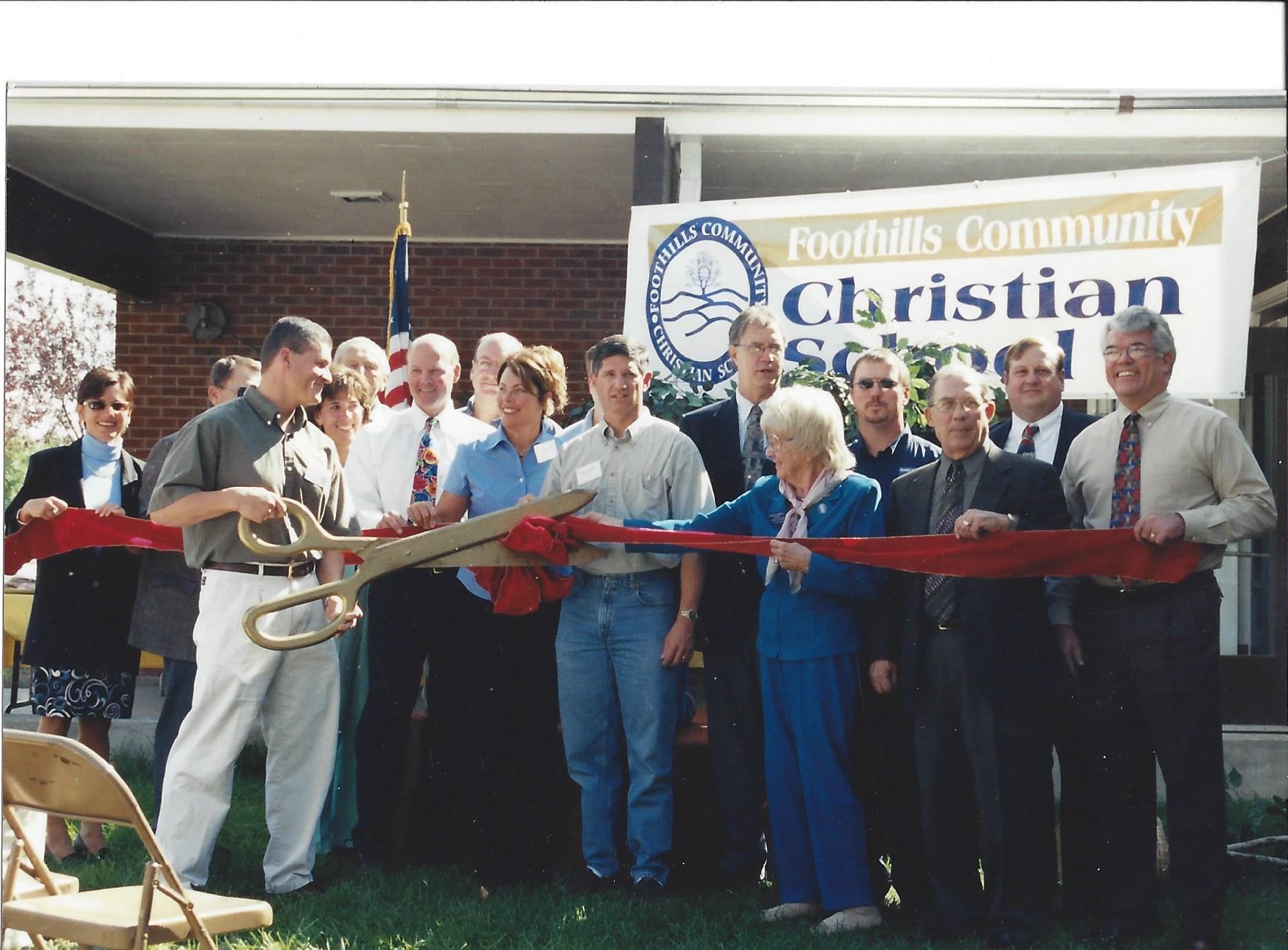 School Board of Directors, staff, and community members gather in 2002 to formally dedicate our current facility.
Foothills Community Christian School was formed by an initial group of parents from within the Great Falls community. This group of concerned parents formed an exploratory group, with the first meeting taking place on July 5, 1996. An interim board was appointed and began drafting the Mission Statement. The Mission Statement was presented to the entire parent group, was voted on, and was passed in August of 1996. The constituency accepted the Statement of Faith in September of 1996. Subsequently, the bylaws, which included the philosophy and objectives, were developed by the interim board and adopted by all the parents in December of 1996. With this foundation, the school opened its doors to students in the fall of 1997 offering Pre-Kindergarten through 8th grade classes. A revision of the Mission Statement was completed in June of 2001 with input from the teaching staff and administrator and an additional change to wording was adopted in the Fall of 2014.
In 2000, the decision was made by the School Board to add a high school program. One grade was added each year growing to a full 9th-12th grade program by 2004. The school then sought initial ACSI (Association of Christian Schools International) accreditation and in 2005 was granted a six-year term. The school was re-accredited by ACSI in 2011 and again in 2018 for another 5 years (currently the maximum length provided by ACSI). Foothills also holds dual accreditation through Cognia and is committed to maintaining full accreditation status.
The school began in 1997 at Harvest Springs Community Church and shared the church facility. However, the school was blessed to have the opportunity to purchase its own facility and moved into the current location at 2210 5th Avenue North in the fall 2002. We are now blessed to serve more than 200 students in Pre-Kindergarten through 12th grade. We are non-denominational and our annual enrollment represents more than 30 local churches. Foothills is a non-profit 501(c)(3) organization.
Mission Statement
We assist parents in providing a Christ-centered education that values exceptional academics, strong moral character, and service to others.
School Verse
I lift up my eyes to the hills – where does my help come from? My help comes from the Lord, the Maker of heaven and earth. ~ Psalm 121:1-2